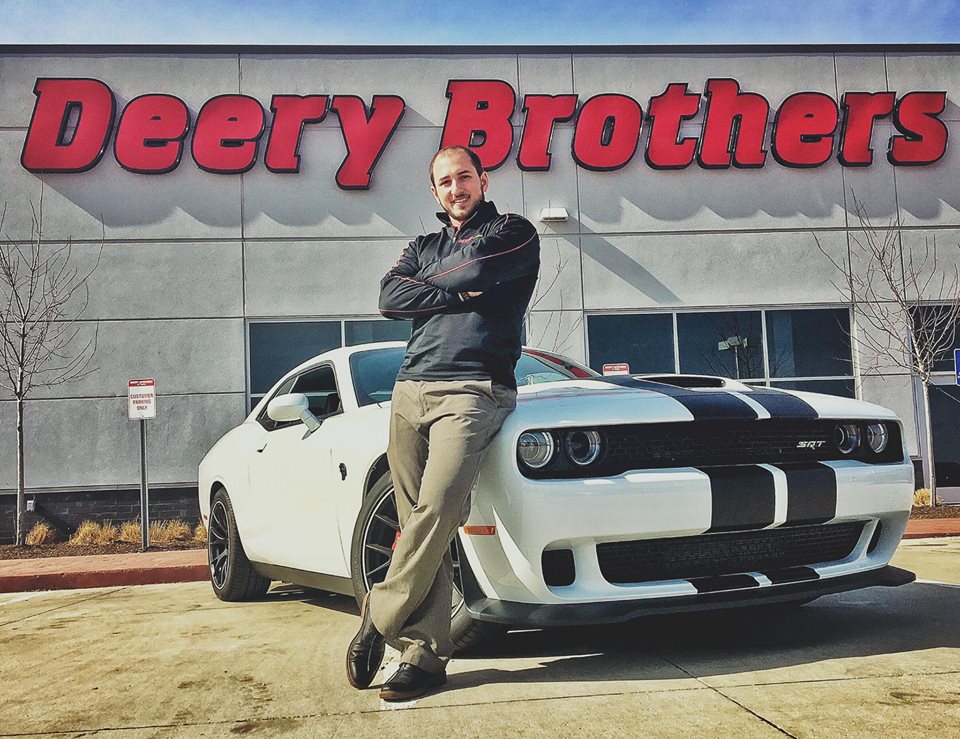 What does the Deery of Ames Family mean to you?
The Deery of Ames family to me means that you're treated like more than just a coworker, you're apart of a family helping other families. This dealership is changing the status quo of what a dealership is suppose to be. I had some family emergencies and my work family was supportive and allowed me to handle my family matters and return to work as if I never left. This place means business when they say family and they mean family when they say business, they are the same thing here. We take care of our customers in the same respect. We treat them as if they were our own family, making sure their needs are taken care of. 
Tell us about yourself, Thomas!
I am the oldest of my immediate family which consists of me and my younger brother, Robert, who's finishing up school back home in Alaska. My two parents, Tom and Jill, are the greatest parents anyone could ever ask for. In January of 2015, however, my father passed away. He was the greatest father anyone can ever ask for.  There wasn't a single soft bone in his body, most wouldn't last an hour in my house. But he made a man out of me and I couldn't ever thank him enough. I love you Dad, R.I.P. 
I've been blessed with some step-siblings, David and Casey, who are older but a blast to have in my life. They were born from my mothers first marriage in Arizona. Their father passed at a young age for them and they came to live up with us in Alaska. 
Born and raised in Alaska, I have been in the harshest of environments and the least I can say is, it builds a type of character in you that you can't find in any other state. In my free time I like to do all kinds of things, from riding motorcycles to taking Sunday cruises in my muscle cars like my Hellcat. I enjoy customizing my truck more and more. I also enjoy family time with my wife, Taylor, and her family. I like visiting my mom in Hawaii and going on adventures to new places. 
I'm an avid strength adviser and love to try and learn new things about the body in my own practice. It's not all seriousness though, I love to have fun and meet new people. I enjoy what I do and that is what makes it fun for me to come to work every day and help out our customers. 
What expectations should I have when working with you?
Above all, you can expect my attention to detail. You can expect that your needs will be taken care of as much as a Sales Consultant can do. I will do everything in my power to make sure you're happy with your vehicle purchase. You will leave happier than you arrived. In a year and 2 months and over 200 customers later, I have learned what it takes to make customers feel valued here at Deery of Ames. And I can't do it alone! You can expect my management team here, including my finance managers, to treat you like family and show how much we care. We appreciate your business beyond your wildest imagination because it's customers like you that continue to help us grow and thrive in the community.
When you work with me at Deery of Ames, you can expect your vehicle purchase to be the best experience at a dealership you've ever had and it doesn't stop there! I want to offer you peace of mind knowing that you're not getting taken advantage of and that you are officially part of the family. I firmly believe that you get what you give. I will always, every day, strive to ensure you receive the best deal and care for you because I care about you as a person, I care about you as a consumer, and I care about you as an individual purchasing a vehicle and wanting the one that best fits your needs.
What motivates you to succeed?
I'm motivated by my constant drive to be better than I was yesterday and the eagerness I have to help as many members in our community as possible. The coworkers I'm surrounded by all strive to be the best version of themselves and it continues to inspire me to do the same. Nothing beats getting the opportunity to put a smile on someone's face knowing they were given the absolute best care!
Make an Inquiry
Hours
Monday

08:30AM - 07:00PM

Tuesday

08:30AM - 06:00PM

Wednesday

08:30AM - 07:00PM

Thursday

08:30AM - 07:00PM

Friday

08:30AM - 06:00PM

Saturday

08:30AM - 05:00PM

Sunday

Closed