Used Jeep Grand Cherokee Ames, IA
While most Ames shoppers would not expect "rugged" and "elegant" to be used to describe the same vehicle, that is in fact the case with the Jeep Grand Cherokee. As one of the most popular midsize SUVs in the country, the Jeep Grand Cherokee has built a reputation for being tough enough for the most demanding trails, while offering a refined driving experience and elegant design. Maybe that's why so many of our Ames customers come in looking for a used Jeep Grand Cherokee. Already a feature-packed crossover, the Jeep Grand Cherokee's value only increases when bought used. Today we'll be looking at what makes a used Grand Cherokee such a great buy.
Here at Deery of Ames, our focus is on providing a friendly, honest customer experience from the moment you walk in the door. With online shopping as the norm, we distinguish ourselves through a commitment to treating each Ames visitor like a member of our family. Whether you want to know about financing options, get an appraisal of your trade-in, or just take a closer look at our vehicles, we'll take the time to make sure you have all the information you need. Now, let's look at what makes a used Jeep Grand Cherokee such a great buy in today's market.

Refined Power
One of Jeep's great strengths is that their vehicles allow owners to do anything and go anywhere they choose. The Grand Cherokee might be the greatest example of that commitment to versatility. No matter your reason for shopping used Jeep Grand Cherokee models, you're likely to find what you're looking for. It goes without saying that the Grand Cherokee is ready for even the toughest terrain, especially when purchased in its Trailhawk trim. This brings a special AWD system with low-range gearing and non-slip differential, while adding off-road equipment like skid plates, off-road tires, recovery hooks, an adjusted approach angle, and Jeep's unique Selec-Terrain system. Available with either a V6 or thunderous V8, the Jeep Grand Cherokee Trailhawk is an off-roader's dream.
But that's not to say a used Grand Cherokee is only for Ames buyers looking to hit the trail. Far from it. The Jeep Grand Cherokee is just as at home in the city, with elegant styling and a wealth of features. Ames families love the comfortable interior, as well as the easy access to power when passing on the highway. As a family vehicle, a used Jeep Grand Cherokee can also offer the versatility of carrying the whole family, as well as towing over 7,000 lbs. When we hear the term "refined power", we think of the Jeep Grand Cherokee.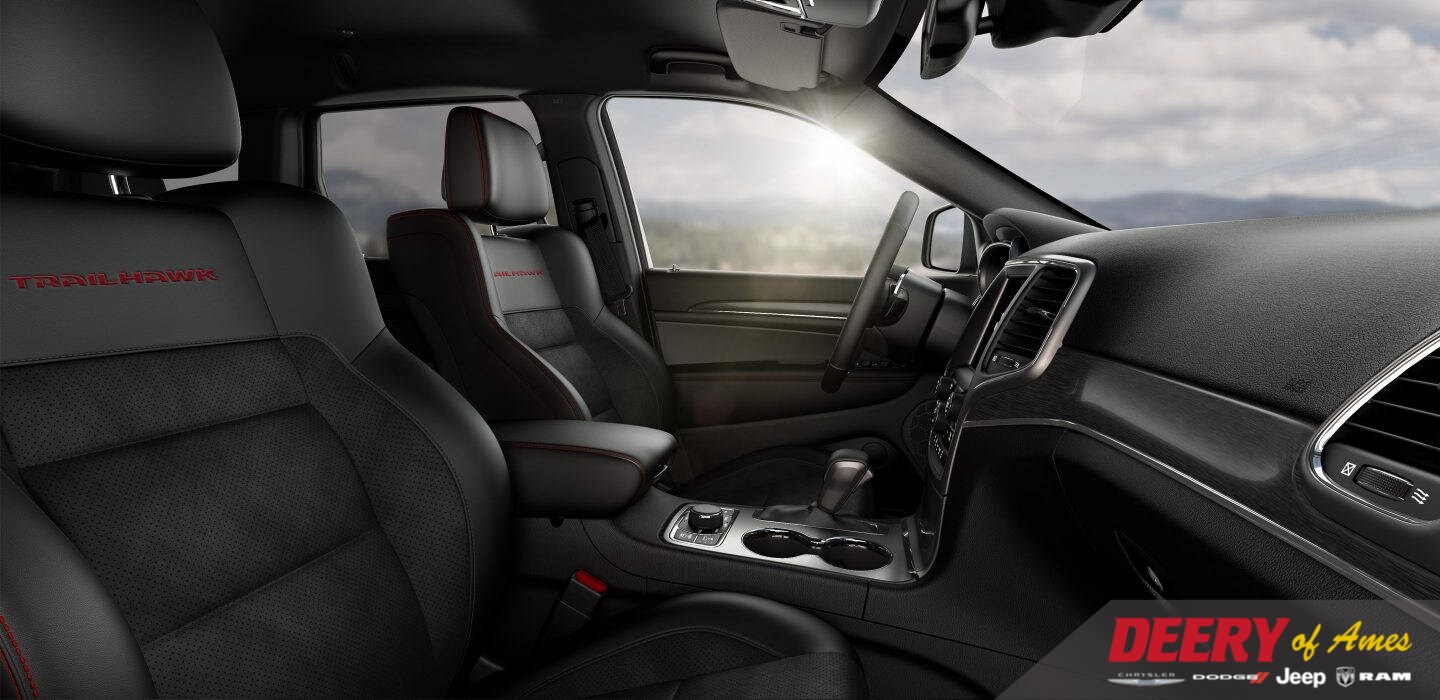 Interior & Features
All used Jeep Grand Cherokee models will come well-equipped, and each trim level brings great additional features. Jeep's Uconnect system is considered one of the best on the market, pairing ease of use with the latest in connectivity. Available navigation will help Ames owners on those road trips out of town, and there are also a wealth of safety features available to protect you and your family when on the road, including collision detection, blind spot monitoring, and even automated parking.
The interior of a used Jeep Grand Cherokee can range from classy and comfortable to downright luxurious, with premium leather trim, sound system, automatic climate control, and heated & ventilated seats. Features like Jeep's bi-xenon headlights add to the Grand Cherokee's safety and elegant look, while intelligently designed controls keep Ames owners in control at all times. All models from the Limited up come with a power liftgate and front seats, and all used Jeep Grand Cherokee models from this most recent design come standard with dual-zone climate control. These features are a great value for a used vehicle, and Ames buyers will appreciate their combination with the Grand Cherokee's greater capability than many competitors.

Used Grand Cherokee At Deery Of Ames
At Deery of Ames, we not only have several great used Jeep Grand Cherokees in stock, but the world-class service that has earned us so many loyal Ames customers. We treat our used car shoppers like family, and will help you get the best deals on financing, you trade-in appraisal, and more. Ready for a test drive? Come into Deery of Ames at 1700 SE 16th St in Ames, IA or give us a call at (515) 233-5000. We're happy to answer any questions you might have, and would love to get you out for a test drive in what we consider one of the best midsize SUVs on the market today. We look forward to seeing you at the dealership!