For Des Moines residents shopping for a pickup truck, there's no doubt that there are some great options out there. But when it comes to comfort, the latest features, and a desire for innovation, the 2019 RAM 1500 is a clear choice. Having been completely redesigned, this full-size RAM pickup truck is built to handle the toughest tasks, while also remaining a comfortable, practical family vehicle. Today we'll be looking at some of the big changes that the 2019 RAM 1500 has undergone, and why so many of our Des Moines customers have made it their truck of choice.
Here at Deery of Ames, we pride ourselves on treating every customer like family, and providing the honest, friendly service that Iowans expect from a family business. From financing and trade-ins to our new and used vehicles, we take the utmost care to make you feel welcome and secure in your decision to shop with us. Located at 1700 SE 16th St in Ames, IA, we're a family run dealership, and will take care of you whether you visit us in store, online, or by giving us a call at (515) 233-5000. Now, let's look at the 2019 RAM 1500.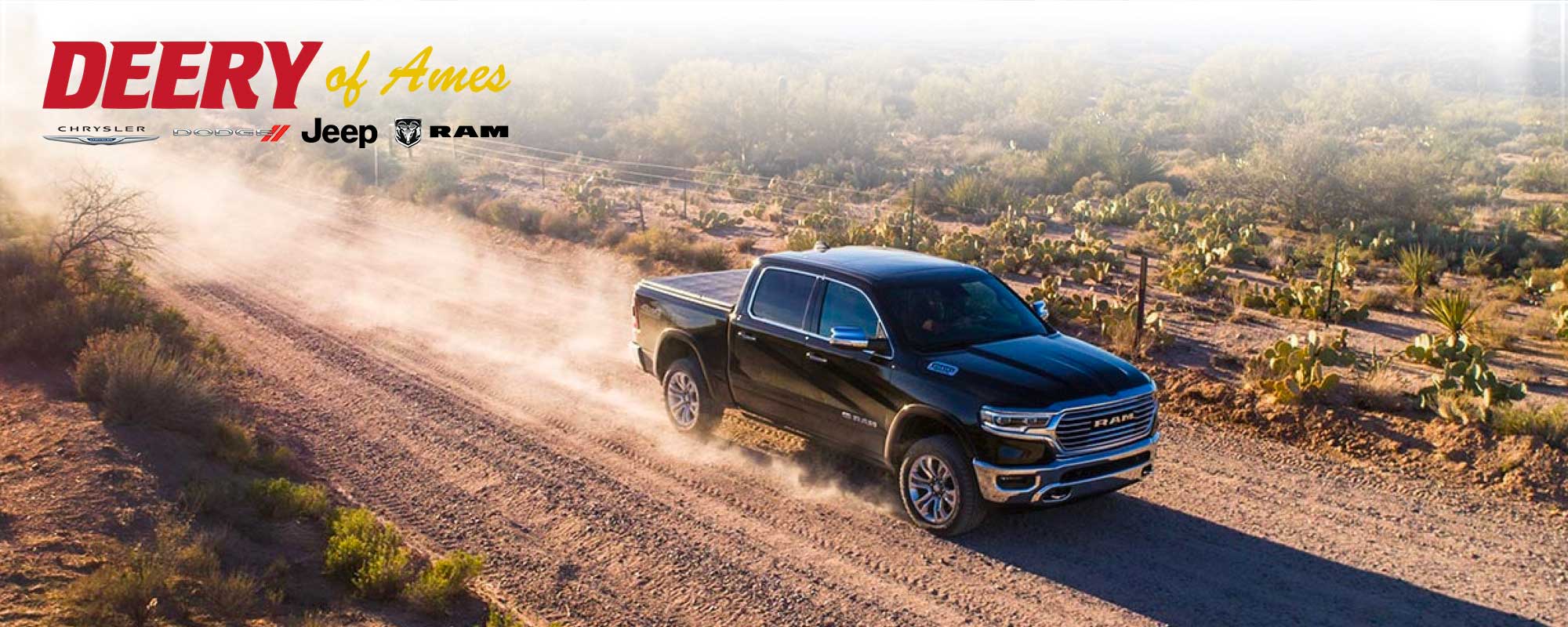 The RAM 1500: Redesigned For 2019
The RAM 1500 is all-new for 2019, retaining or improving many of the previous generation's most popular features while shedding weight, increasing power and capability, and offering more luxury in upper trim levels than ever before. The new exterior styling is also about more than just looks. The improved aerodynamics reduce drag, aiding with fuel efficiency and driving feel at highway speeds. RAM has dropped the weight of their flagship truck by developing a lighter, more rigid body. This not only lightens the weight, but also increases its towing and payload capacity. The RAM 1500 also has extended its wheelbase by 4 inches for 2019, adding a luxurious amount of legroom for rear passengers. And of course, RAM has maintained its best-in-class comfort with the 2019 RAM 1500.
Des Moines buyers who plan to tow frequently will love the new optional air suspension in the 2019 RAM 1500. Not only does the air suspension adjust for each wheel separately, it also reacts intelligently to driving conditions. When driving on the highway, the suspension lowers automatically, providing a more stable driving experience and improving efficiency. If sticking with the standard suspension, Des Moines owners will enjoy RAM's improved coilspring suspension. For years, the RAM 1500 has been the most comfortable full-size pickup, and they've taken that comfort even further with the 2019 model. Whether towing, hauling, or just driving around Des Moines, owners will appreciate the carlike response.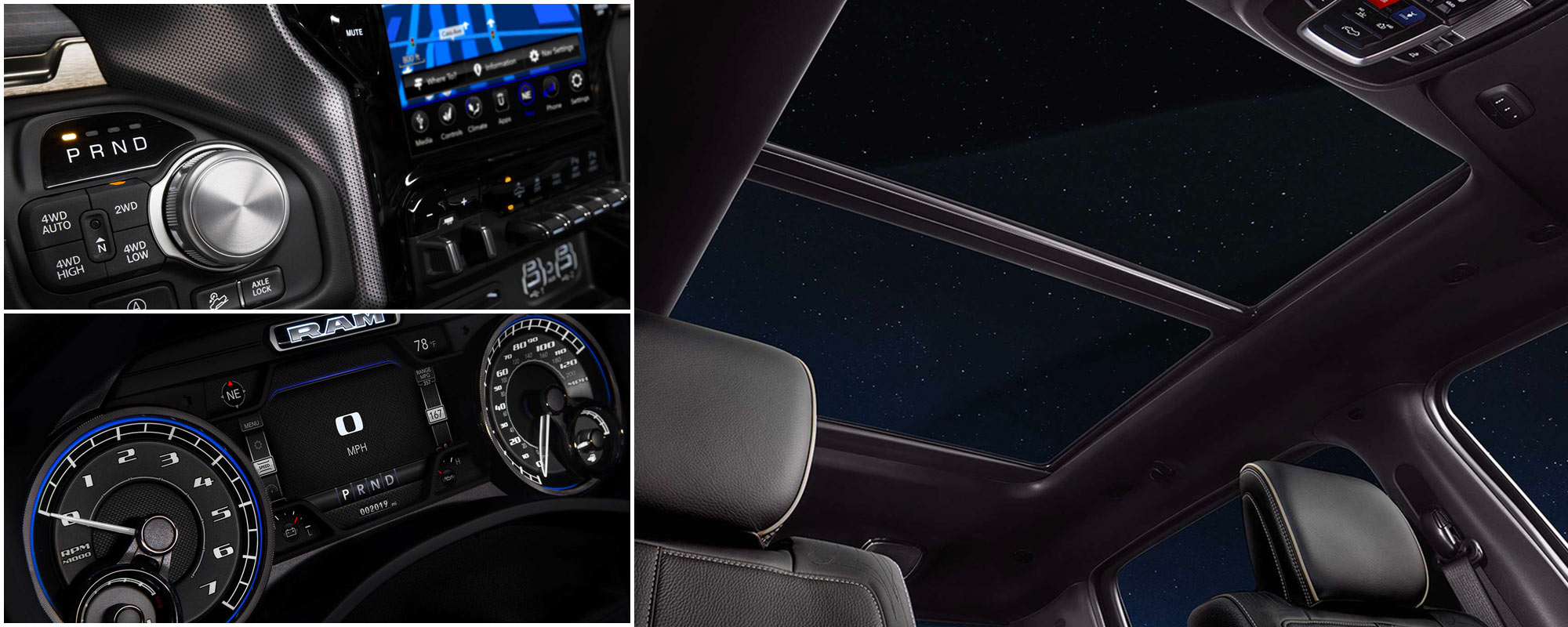 RAM 1500 Features & Capability
Now this is the first thing a lot of Des Moines buyers want to know about the new RAM. Luckily for them, the 2019 RAM 1500 boasts best-in-class V8 towing at 12,750 pounds, and an increased max payload of 2,300 pounds. This means that owners will be able to handle even the toughest jobs, and have plenty of power to tow a boat or large trailer. Advanced towing technologies designed to reduce sway and provide more control are also present, making towing with the 2019 RAM 1500 easier than ever.
For 2019, RAM has also unveiled its eTorque system. This is a mild hybrid system that's designed to improve gas mileage by using electric motors when at rest. These motors recharge during driving, and are also used when first hitting the accelerator. This gives the RAM 1500 some extra starting power with no extra fuel cost, showing a lot of potential for the integration of electric components with full-size pickups. Available engines include the base 3.6-liter V6 at 305 horsepower and 269 lb-ft of torque, a 5.7-liter V8 producing 395 hp and 410 lb-ft of torque, as well as RAM's signature 3.0l turbodiesel. All three engines provide a great combination of power, efficiency, and drivability.
The 2019 RAM 1500 also offers a wealth of tech, safety, and luxury features for Des Moines buyers. In its upper trim levels, the 2019 RAM 1500 offers the class's largest touchscreen, at 12 inches. Even if not opting for the top-of-the-line screen, RAM owners will enjoy the latest version of Uconnect with Apple CarPlay and Android Auto. There are a total of 7 trim levels available, as well as several configurations. Des Moines buyers can still go with a basic, no-frills work truck with a single cab, or go full luxury with a crew cab, Napa leather interior, sunroof, and more. At its highest trim levels, the 2019 RAM 1500 is the most luxurious truck ever made, but that's not to say that even the work truck is particularly sparse. All 2019 RAM 1500 models have RAM's legendary suspension, as well as a rearview camera and other desirable features. RAM's wealth of trim levels and options ensures there's a RAM 1500 for every Des Moines customer.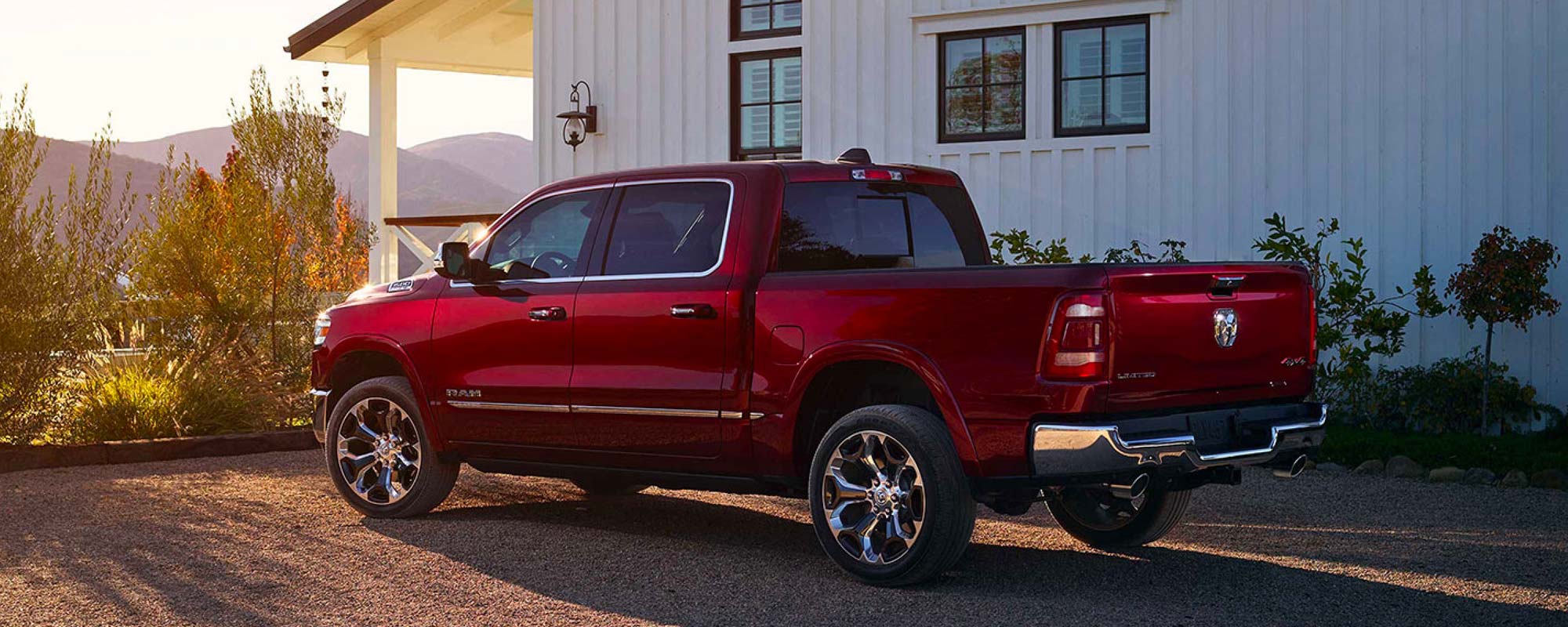 Conclusion
Deery of Ames has the area's best selection of RAM trucks, and we love getting to introduce our Des Moines customers to all the exciting new features on offer. Give us a call at (515) 233-5000 or come into the dealership located at 1700 SE 16th St in Ames, IA for a test drive, and you'll find out why everyone is raving about the new RAM 1500's comfort and features. Check out our inventory below, and you'll find information on financing and trade-ins. At Deery of Ames, we treat everyone like family. No pressure, no pushy salespeople, just us helping you find the perfect vehicle. So stop in and experience the 2019 RAM 1500.