Jeep has completed a major redesign of the 2019 Jeep Cherokee's exterior, and has also added an exciting new engine option. The Jeep Cherokee has long had a reputation as the most capable crossover in its class, and Des Moines residents who have been considering a Cherokee will really enjoy Jeep's changes for the 2019 model year.
If you're looking to try one out for yourself, there's no better place for it than Deery of Ames. Not only do we have a premium selection of 2019 Cherokee models, but we also offer a family atmosphere that keeps our Des Moines customers coming back whenever they need a new vehicle. We believe in treating everyone who walks into the dealership as if they were family, meaning that our customers get a lot more than just a great deal on a new Jeep vehicle. Located at 1700 SE 16th St in Ames, IA, we're a family run dealership, and will take care of you whether you visit us in store, online, or by giving us a call at (515) 233-5000.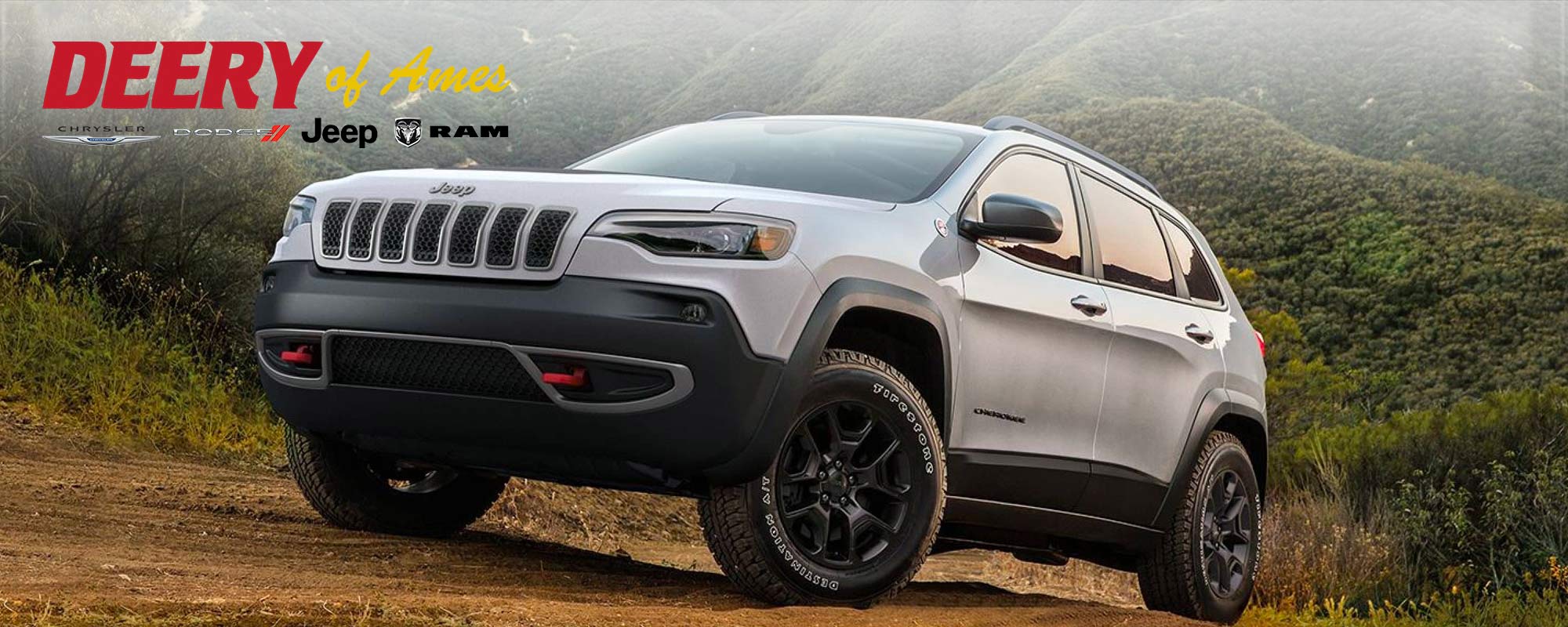 Jeep Cherokee Redesign
The most obvious change to the Jeep Cherokee for 2019 is its completely redesigned exterior. With more refined lines and a tough front fascia, the 2019 Cherokee now truly has the look to match the refinement of its driving experience and rugged capability. The 2019 Cherokee retains Jeep's reputation for having the most capable crossover in its class, offering a winning combination of great looks, off-road capability, and comfortable driving. Interior storage has been improved, adding to the Cherokee's well-built cabin, and a 2.0l turbo engine has also been introduced, offering the perfect blend of power and efficiency that our Des Moines customers are looking for in a crossover.
It goes without saying that Jeep has succeeded with its redesign of the 2019 Jeep Cherokee, updating its looks and powertrain for the future, while retaining everything that has made it a favorite among Deery of Ames customers.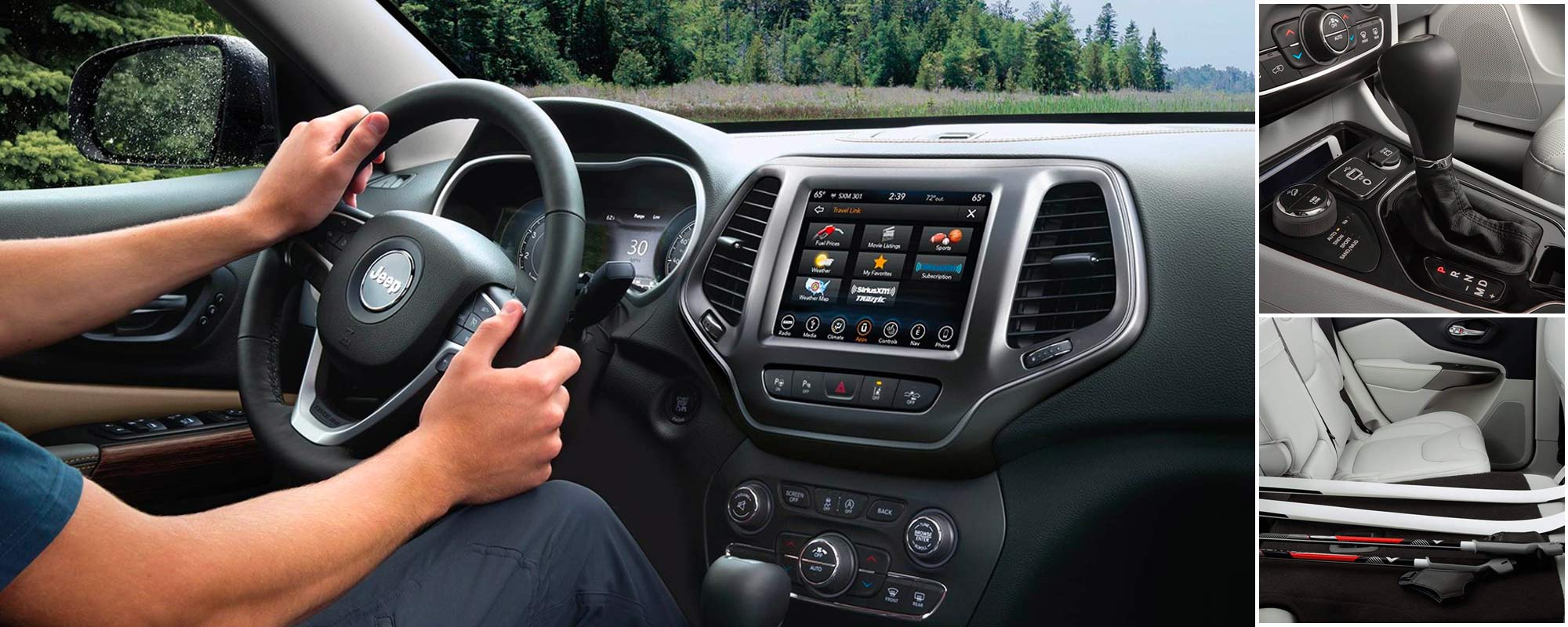 Interior & Features
While Des Moines residents who haven't checked out a Jeep lately might not remember their interior being one of their strengths, that has certainly changed, as evidenced by the Jeep Cherokee. Stepping into the 2019 Cherokee, buyers will immediately notice its comfortable, intelligently-designed cabin. Its seats are comfortable yet supportive, and everything is within easy reach when driving. Sometimes, less is more, and when it comes to fiddling with controls while driving, it's best to keep it simple. With the 2019 Cherokee, Jeep has managed to craft a simple, intuitive cabin that still reflects quality workmanship and contains the latest in technology.
Jeep's Uconnect interface comes with an 8.4-inch touchscreen on most Cherokee models, providing a tech interface that's been praised as one of the best in the industry. Hands-free operation is intuitive, and adds to the 2019 Jeep Cherokee's credentials as an excellent commuter or family vehicle. As evidenced by advanced safety features like adaptive cruise control, parking assistance, lane departure warning, and collision intervention, the 2019 Cherokee's integration of technology add great peace of mind and driver confidence. Des Moines families can feel secure in their choice of the 2019 Jeep Cherokee as their next family vehicle.
Driving & Performance
The Jeep Cherokee has gotten praise from both experts and Des Moines owners for its comfortable on-road driving dynamics. The suspension is tuned to drive comfortably even on rough surfaces, but still remains sporty for an engaging drive. The base 2.4l engine is great for commuting and driving around town, but there are two other optional engines that Des Moines buyers can choose from. One is a brand-new 2.0l turbocharged engine, nearly equalling the Cherokee's V6 option in horsepower while providing greater torque and better fuel efficiency. This is a particularly exciting engine option, and helps bring the 2019 Cherokee to the forefront of the crossover segment.
For maximum power and off-roading potential, the 2019 Cherokee's V6 option provides confident acceleration and the power necessary for hitting the trail. This engine is standard on Jeep's famous Trailhawk trim, which also brings important off-road gear to the 2019 Cherokee. Trailhawk models also come standard with a unique AWD system, low-range gearing, adjusted height and approach angles, specialty tires, off-road tuned suspension, recovery hooks, skid plates, and more. While the exterior of the Trailhawk variant gets some special touches, the 2019 Jeep Cherokee remains just as at home at the office as it is on the trail.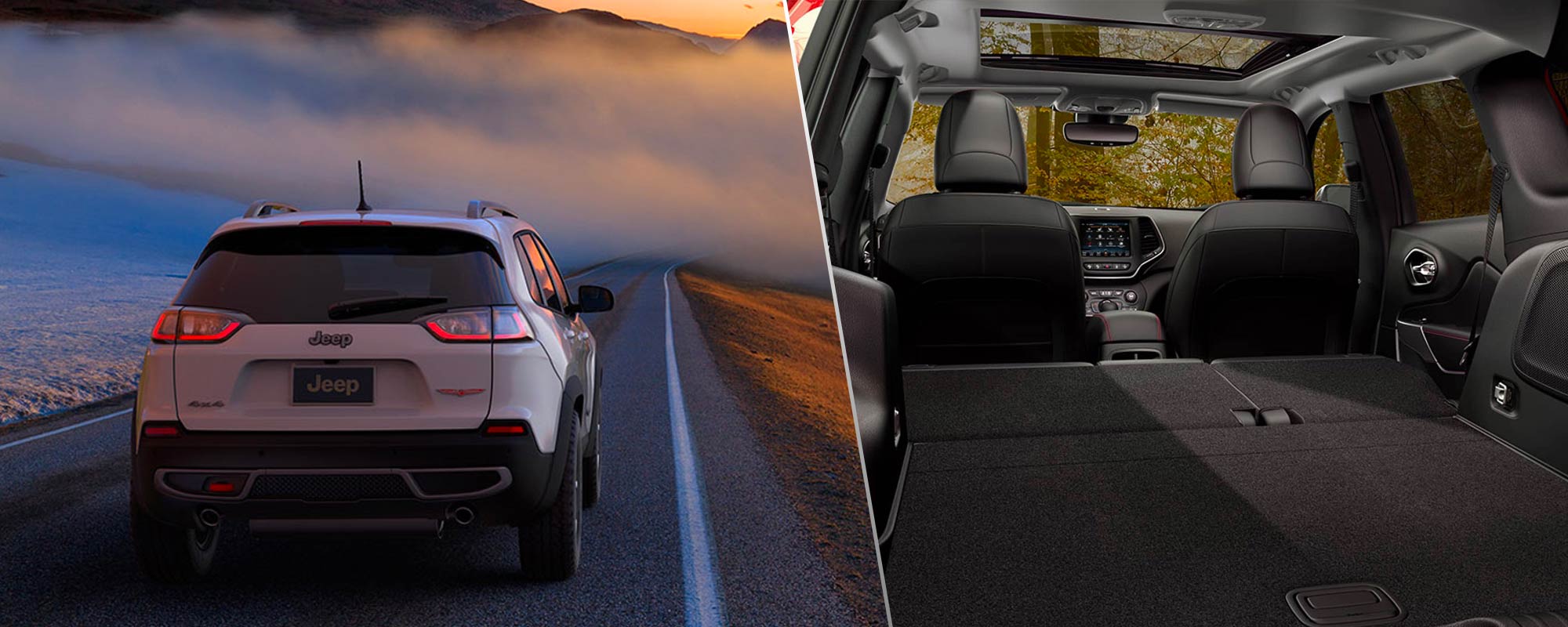 Conclusion
Deery of Ames is proud to offer the 2019 Jeep Cherokee to our Des Moines customers. Not only is the 2019 Cherokee the perfect choice for Des Moines residents who want a crossover that can also hit the trail, it is also a top contender among crossovers in general due to its well-designed interior and exciting engine options.
Below you will find our inventory of 2019 Jeep Cherokee models, along with information on financing and trade-ins. We'd love to have you into the dealership at 1700 SE 16th St in Ames, IA, for a test drive, and you can call us at (515) 233-5000 with any questions you have about the 2019 Cherokee. This is one of the hottest crossovers this year, and once you check it out for yourself it will be easy to understand why. So come into Deery of Ames, and enjoy the family-oriented, no-pressure environment as you check out the redesigned 2019 Jeep Cherokee.