One of the newest and fastest-growing classes of vehicle, the subcompact crossover has taken the Ames, IA market by storm. It seems that each year there is a new entry to the class, but which ones really stand out? Today we're comparing the 2018 Jeep Renegade vs Buick Encore. They're distinct vehicles, but their similar form factors and popularity warrant a head-to-head comparison.
Here at Deery of Ames, family comes first. That's why we treat everyone who walks into our dealership at 1700 SE 16th St in Ames, IA like family. We're focused on building real relationships with our customers, and it shows in everything we do. If you're ready to experience a different kind of dealership, stop in today or give us a call at (515) 233-5000 with any questions you have about financing, trade-in values, and of course our vehicles.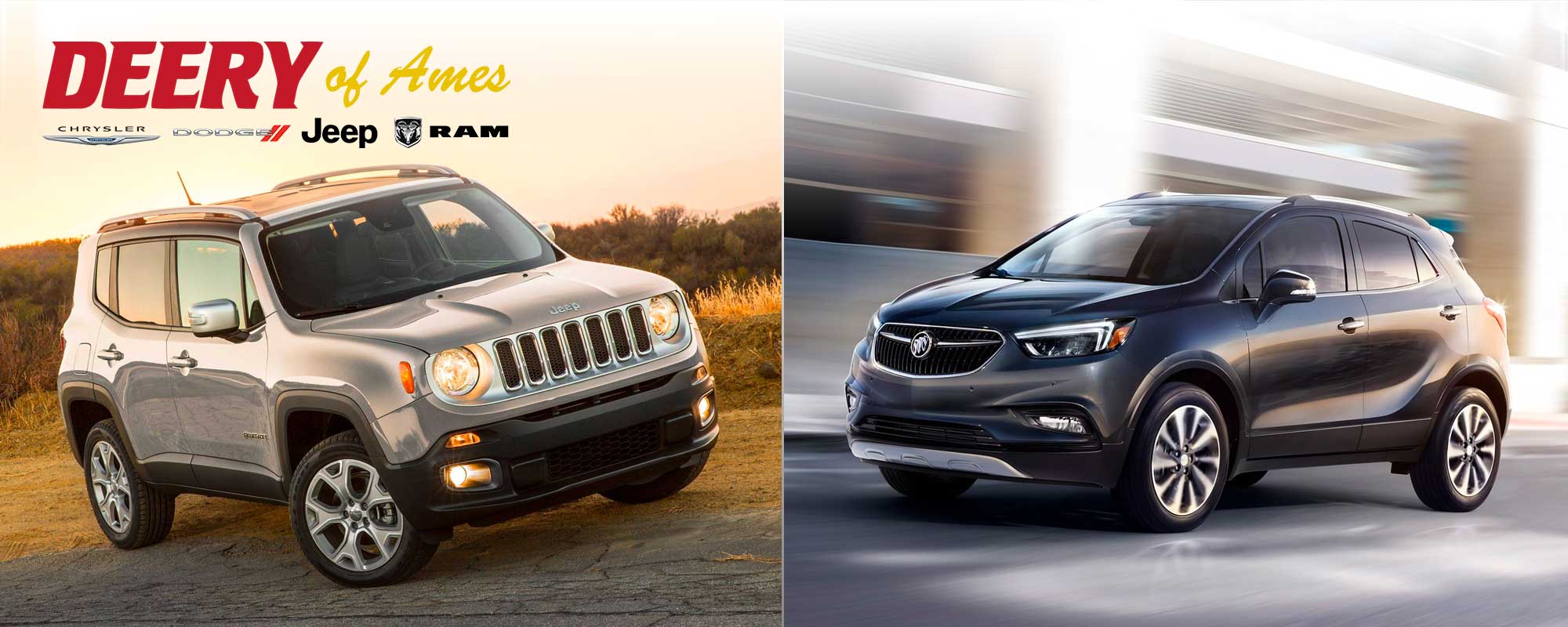 Form vs Function
Jeep and Buick have two very different histories and design philosophies, but have both ended up with a strong entry in the subcompact crossover segment. The Buick Encore essentially created the class, and still offers a more luxurious experience than many competitors. However, there's only so much luxury you can offer in a subcompact crossover, and vehicles like the 2018 Jeep Renegade make a name for themselves with improved capability and features.
One of the big differences between the two is in the powertrain. While the 2018 Buick Encore can be had with either a 138 or 153 horsepower turbo engine, the Jeep Renegade starts off with a 160 horsepower turbocharged option. Stepping up to Jeep's 2.4l engine brings 180 horsepower, which is a significant difference between the two vehicles. This difference in power gives the Encore a slight edge with fuel economy, but it's only a 2 mpg difference on the highway at a significant cost in engine power. Both vehicles are very efficient for a crossover, but Ames buyers are likely to enjoy the extra power coming from the Renegade's engine. Sticking with the powertrain, the transmissions are also different. The Encore is only available with a 6-speed automatic, while the 2018 Renegade can be had with either a 6-speed manual or 9-speed automatic.
Both the 2018 Buick Encore and Jeep Renegade are available with AWD for winter weather conditions, giving Ames drivers more grip and confidence on the road. However, the Renegade takes it a step further with its Trailhawk trim level. Adding significant off-road equipment and a trail rating, the 2018 Jeep Renegade Trailhawk brings unmatched capability to the subcompact crossover segment. Added to the fact that it's considered to have one of the most comfortable rides in its class, the Jeep Renegade's extra capability just isn't available on any other vehicle of this size.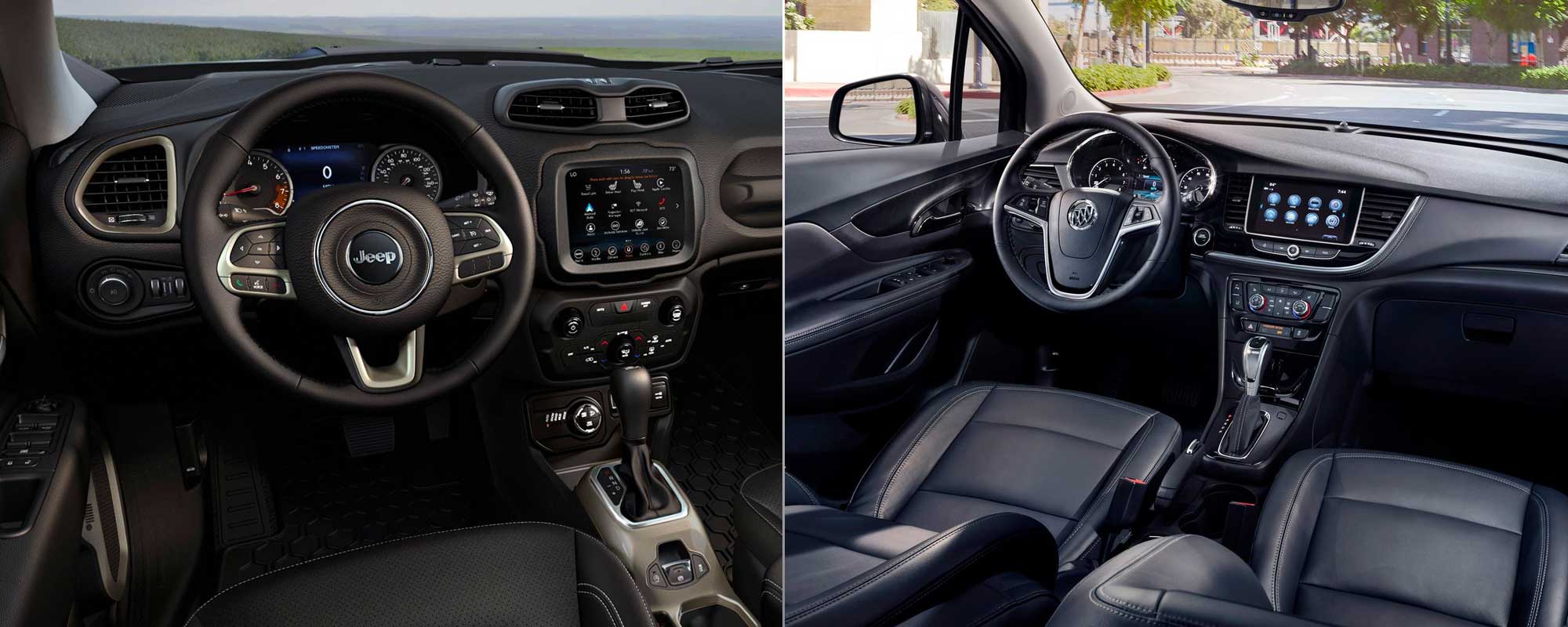 Encore & Renegade Features
As mentioned above, these two vehicles have very different styles and identities, but they both offer an above-average level of comfort and features for the class. Both the Renegade and Encore are available with advanced safety features, such as blind spot monitoring, lane keeping assist, collision detection and mitigation, parking sensors, and more. Both also offer leather interior, Apple CarPlay and Android Auto, and other convenience features.
One noticeable difference between the two models is their price. While Ames shoppers will notice that the starting MSRP is very similar, the 2018 Renegade can be had for thousands less. Higher trim levels of the 2018 Jeep Renegade also come in several thousand dollars lower than those of the Encore. Combined with an overall better driving experience and greater capability, the lower price point of the Renegade is a big selling point for Ames buyers, whether looking for a compact commuter or efficient family vehicle.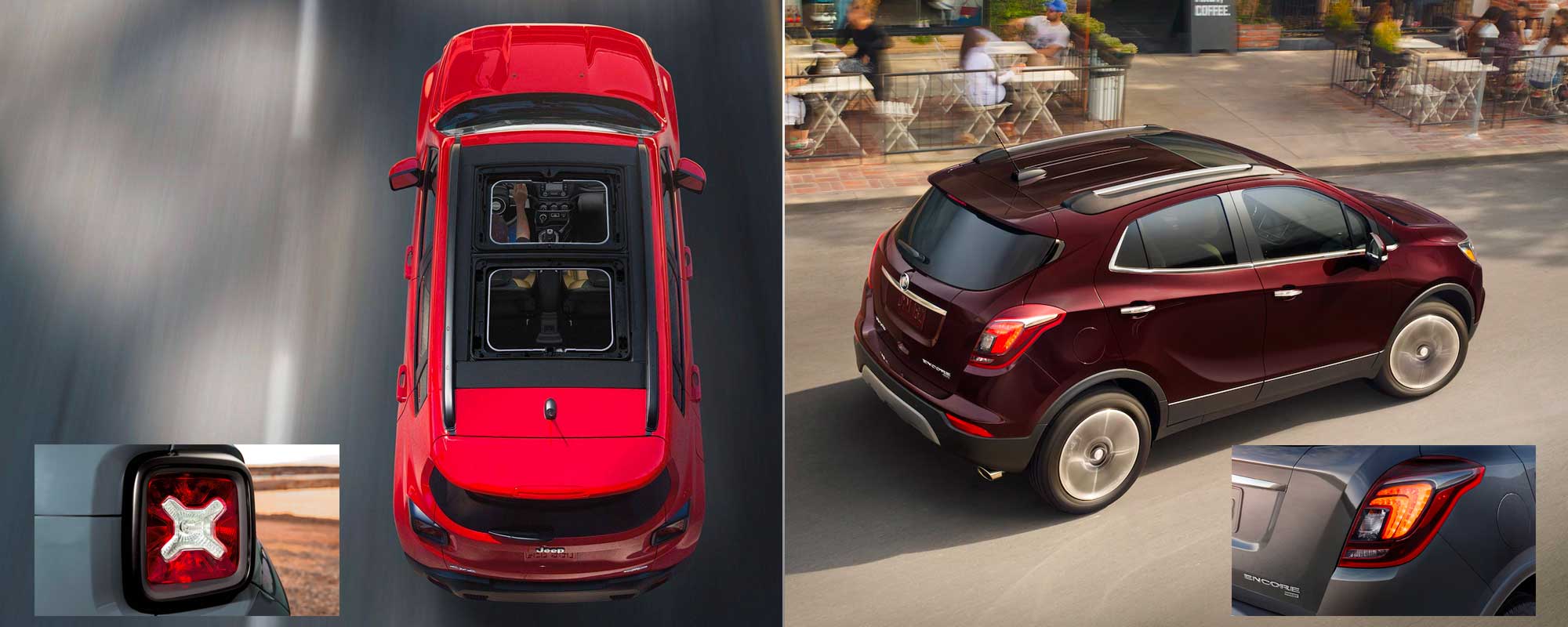 Conclusion
While there's no doubt that the 2018 Buick Encore is one of the top compact crossovers out there, the 2018 Jeep Renegade wins the head-to-head on several counts. The increased power from the Renegade's engines and its greater capability make it truly stand out, and top trim levels can be found at lower prices than the Encore's. Experts are calling the 2018 Jeep Renegade one of the best in its class for both ride quality and comfort, as Jeep has really nailed both the on-road and off-road driving dynamics.
Sound like the 2018 Jeep Renegade might be worth a test drive? Stop into Deery of Ames at 1700 SE 16th St in Ames, IA, and we'll get you out on the road. Attractive financing is available, and the Renegade has the flexibility to be configured in a way that meets Ames families' needs. And while you can find great deals on new vehicles just about anywhere these days, what you won't find is the quality of service we offer here at Deery of Ames. We uphold Iowa family values, and will treat you with the respect you deserve. No games, no gimmicks, just honest service for the community of Ames, IA. So come in today, and experience the difference a dealer can make.