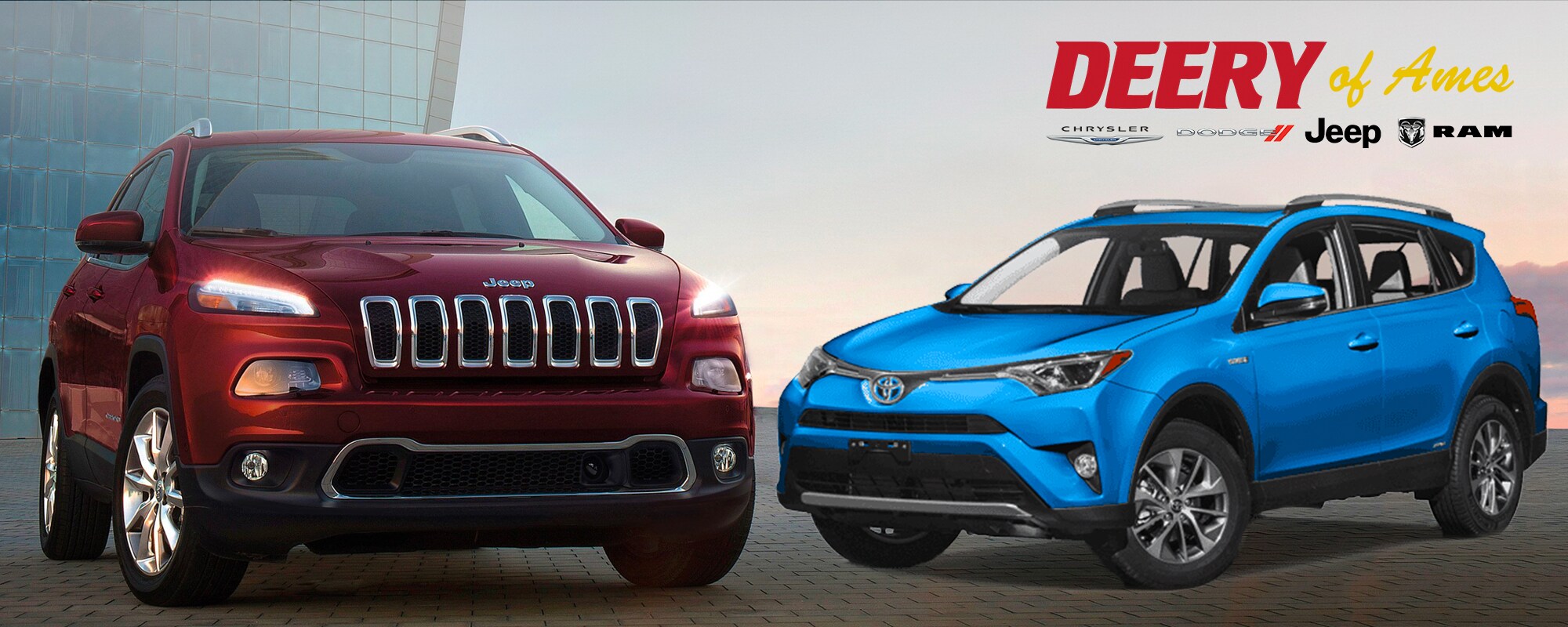 We get it: It seems like there's a new crossover coming out every week, and it makes it harder to decide which one is right for you. We can't tell you how many times we've had customers come in with a long list of vehicles they need to try, simply because there are so many crossovers on the market. But how do you get started?
One of the best ways is to start comparing the models you're interested in directly. Today, we're helping our Ames, IA customers in their search by comparing the 2018 Jeep Compass vs Toyota RAV4. These are both very popular crossovers, but which one is best for Ames owners? We'll be comparing their strengths and weaknesses to find out whether the Compass or RAV4 fits your needs better.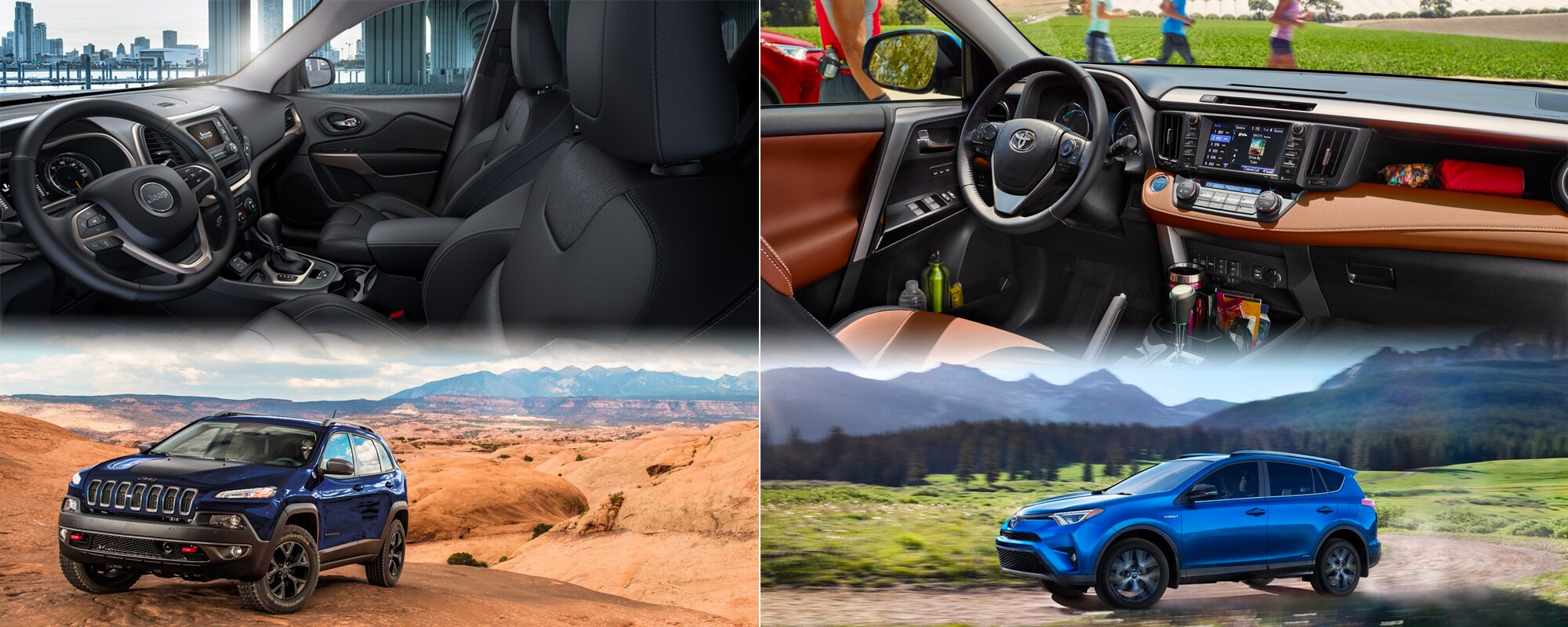 Design & Features
Both the Jeep Compass and the Toyota RAV4 are very popular in 2018, but they were actually designed at much different times. While the Compass received a complete redesign just a year ago, the RAV4 is in its sixth year. While the RAV4's longevity certainly speaks to its solid overall design, there are certain things Ames buyers will notice that feel a bit behind the times. That said, its familiar and practical design continues to win new owners year after year.
Both the Compass and RAV4 offer excellent tech features, although Android Auto and Apple CarPlay are absent from the RAV4. For 2018, Toyota is offering Safety Sense P with all its vehicles, bringing some great driver aides into the realm of standard equipment. The Compass also offers advanced safety tech, but also bolsters its on-road safety with optional AWD. Jeep is known for its off-road prowess, and the Compass delivers on that end, but even its basic AWD system provides great peace of mind and stability. This is an area where the RAV4 can't compete, so Ames buyers needing AWD will want to take that into consideration.
When looking at the interiors of the 2018 Compass vs RAV4, both vehicles have their own strengths. One area where the RAV4 really stands out is its cargo space. Few competing crossovers can match the Toyota's overall interior space, so it has remained popular with buyers who need maximum stowage. Looking a bit closer at the interiors, though, the 2018 Jeep Compass definitely comes out on top when it comes to overall quality. That's particularly true when comparing upper trims, where the Compass receives leather interior. Leather is not an option on the RAV4, which really cuts into its luxury value. The Compass has also been widely praised for its comfortable seating, construction quality, and "just-right" size.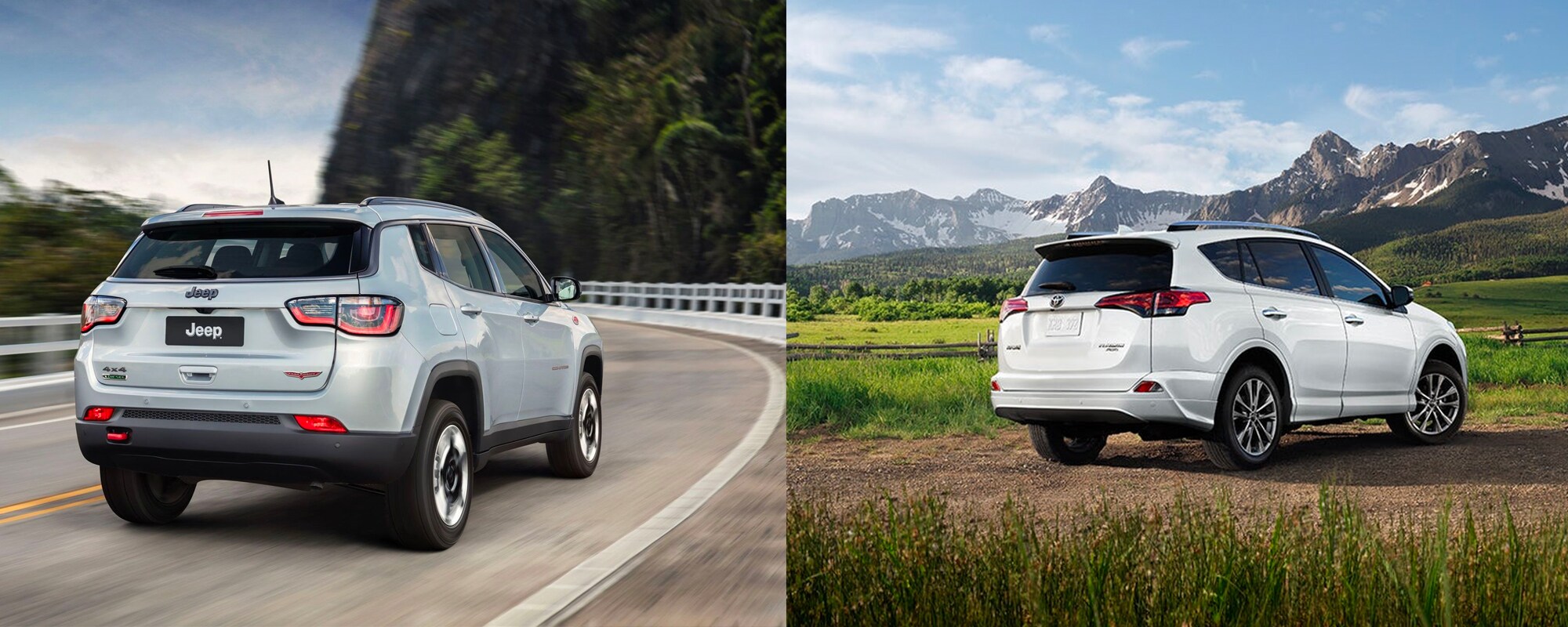 Driving & Conclusion
Though Ames families looking for a crossover might not have driving feel at the top of their list of needs, it is an important consideration when purchasing any vehicle. Comparing the 2018 Jeep Compass vs Toyota RAV4, it's clear that the newer design of the Compass helps it a lot when it comes to driving. The Compass has much more muted road and wind noise, and its suspension and strong chassis give it an improved on-road dynamic. Both vehicles use a four-cylinder engine with similar horsepower, but the lighter Compass will likely feel a bit more lively than the aging RAV4.
In this comparison of the 2018 Jeep Compass vs Toyota RAV4, we've seen that both vehicles have their own particular strengths and weaknesses. The RAV4 certainly has more interior space, but its aging design hurts in a few different categories. That said, it has long been one of the most popular crossovers on the market, meaning some Ames families might be willing to sacrifice newer tech features and luxury for its overall utility. However, a lack of AWD, Apple CarPlay, and leather interior option put it behind the 2018 Compass in some important areas. Combined with its lackluster ride, it would be hard to recommend the RAV4 over the Compass except for families that really need the extra cargo room.