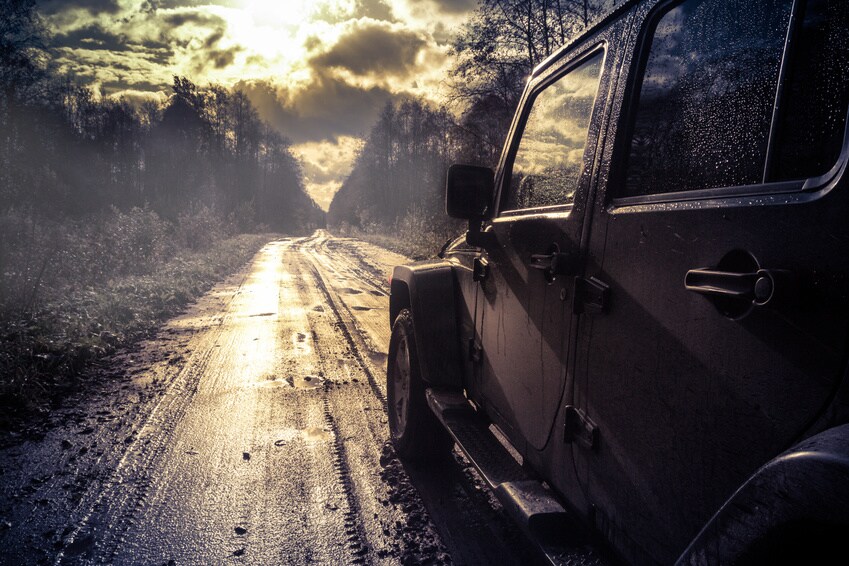 There have been many types of Jeeps over the years, and they have changed the American roadways. Driving these Jeeps not only brought a rugged sense of self to the drivers, but also a versatility that allowed for the accomplishment of numerous tasks. The types of Jeeps have certainly evolved over the years, but one thing has remained constant: there has always been a solid following of Jeep lovers.
1940s
The first Jeep was produced for the U.S. Army during World War II; it wasn't available as a civilian vehicle until 1945. Once the first Willys MB Jeep was available to the public, the cult following began for the Jeep loyalists. Jeep relied heavily on their slogan, Go-Anywhere, Do-Anything, and people followed. After 1945, the automotive company became a world leader in off-road vehicle technology.
1950s
By the 1950s, Jeep had ramped up its engineering and manufacturing as the recreational vehicle began to gain global popularity. Along with the famous Jamboree, Jeep launched seven unique models in this post-war decade, increasing the awareness of -- and love for -- off-roading vehicles.
1960s
Perhaps the most polarizing adjustment in the way Jeep manufactured vehicles occurred in the '60s. The Jeep Wagoneer was released in 1963 and sold until the early '90s. To the untrained eye, that vehicle and many of its '60s counterparts were unlike Jeep in nearly every way. But to those who had the pleasure of driving these innovative vehicles or had further knowledge, they knew the 14 newly released Jeeps of the 1960s were just as lovable as ever.
1970s
Jeep introduced the first-ever full-time 4x4 Jeep system in the '70s. The 2-door Jeep Cherokee won nearly every automobile award in the early part of the decade and helped propel company revenues to all-time highs.
1980s
Compact 4-door Jeeps entered the scene, and the company finally had the technology to truly expand the automotive industry as a whole, not just the Jeep industry. For the first time in history, UniFrame construction was used to develop vehicles; additionally, the first 4x4 with shift-on-the-fly capability was introduced to the market.
1990s
By this point in history, no one needed new reasons to buy a Jeep; rather, the flocked to Jeep dealers whenever a new Jeep came out. In 1993, the Jeep Grand Cherokee ZJ changed the way off-road and on-road vehicles were manufactured.
2000s to Present Day
In 2008, there were more than 12.3 million households with a Jeep in the driveway. Following in the 70-year tradition of continued innovation and success, Jeep is still reaching new heights today. There are new types of Jeeps that almost seem futuristic because of how far we've come, but which still have a similar feel to the historic U.S. Army Jeep of the early 1940s.