This has to be the most exciting year for pickup trucks that Des Moines has seen in ages. Here we are comparing the 2019 Ram 1500 vs Chevy Silverado. That's right, both of these legendary trucks have been updated for the 2019 model year, bringing new looks, features, and hopefully performance.
After spending time looking over what Ram and Chevy have to offer, we're sure that Des Moines buyers will be very happy with what's available. So read our comparison of the 2019 Ram 1500 vs Chevy Silverado below to find out what's new and which one is right for you.
 
Overview
The Ram 1500 and Chevy Silverado both get new designs for 2019, but which one turned out better? We'll start off by saying that the Ram 1500 improved its ride quality for 2019, which is truly remarkable. The Ram 1500 was already best-in-class in terms of ride comfort and suspension, and they've gone ahead and made it even better.
If ride quality is important to you, especially if you'll be driving around Des Moines, there's no better truck than the Ram 1500. The Silverado also improved its driving experience by shaving off almost 500 lbs, and designing the exterior to be aerodynamic. This definitely improves upon the previous design.
 
Interior
Both the Ram 1500 and Chevy Silverado offer excellent quality interiors, as is becoming necessary to compete in the pickup truck market. Des Moines residents will love the soft-touch materials in the Ram 1500, and opting for the leather seats brings not only comfort, but class. Fully-equipped pickup trucks definitely start to feel like luxury vehicles, and nowhere is that more true than the Ram 1500. That's because it combines classy, high-quality interior design with its ultra-smooth ride quality.
Power
This is what a lot of our Des Moines customers want to know about. How powerful is the truck? Well, to put it bluntly, Des Moines shoppers that opt for the 2019 Ram 1500 Rebel will be receiving the most powerful pickup truck in its class, ever. That power comes from an optional turbocharged V8 that brings a whopping 707 horsepower. That's truly mind-blowing, and Des Moines residents looking for the ultimate offroad pickup will want to stay tuned for the Ram Rebel.
For the average buyer, both the 2019 Ram 1500 and Chevy Silverado offer great powertrain options. Ram's diesel engine returns with the 2019 model, bringing with it huge torque and best-in-class gas mileage. Ram has also crafted a new eTorque system to improve gas mileage with its larger engines. The Silverado's gas mileage should also be improved due to its lower weight and aerodynamic design, but we don't yet have real-world numbers. However, Des Moines shoppers can be confident that Ram's diesel option will hold on to its best-in-class crown when it comes to fuel efficiency.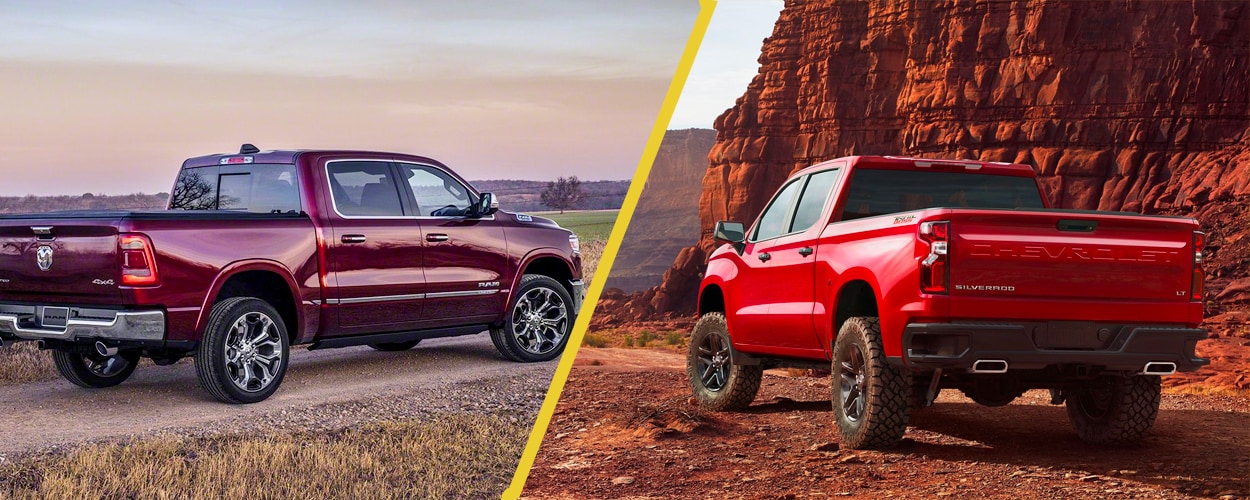 Conclusion
Comparing the 2019 Ram 1500 vs Chevy Silverado, it's clear that Des Moines residents will have a great selection of pickup trucks this model year. Both have improved significantly over previous models. Ram, though, has decided to focus on improving the qualities that were already best-in-class. Passenger comfort and space is truly amazing, as they've added a full 5 inches of legroom to the rear seats. On top of that, they took their best-in-class ride quality and managed to improve it. All that means that the most comfortable truck on the market got even more comfortable, while adding superpowered and efficient engine options.
The Silverado should also be a big improvement for those loyal to the Chevy brand, but the 2019 Ram 1500 has really soared past the competition in a lot of its qualities. That's why we are so proud to sell Ram trucks. Their commitment to quality means they won't let Des Moines owners down. And here at Deery Brothers of Ames, we won't let you down either. We are committed to offering the best service Des Moines residents can find, and offer a level of transparency and honesty that is second to none. As a family business, we value each and every person that steps into our showroom, and treat them like part of the family. So come in for a test drive and put our service to the test. We won't let you down.