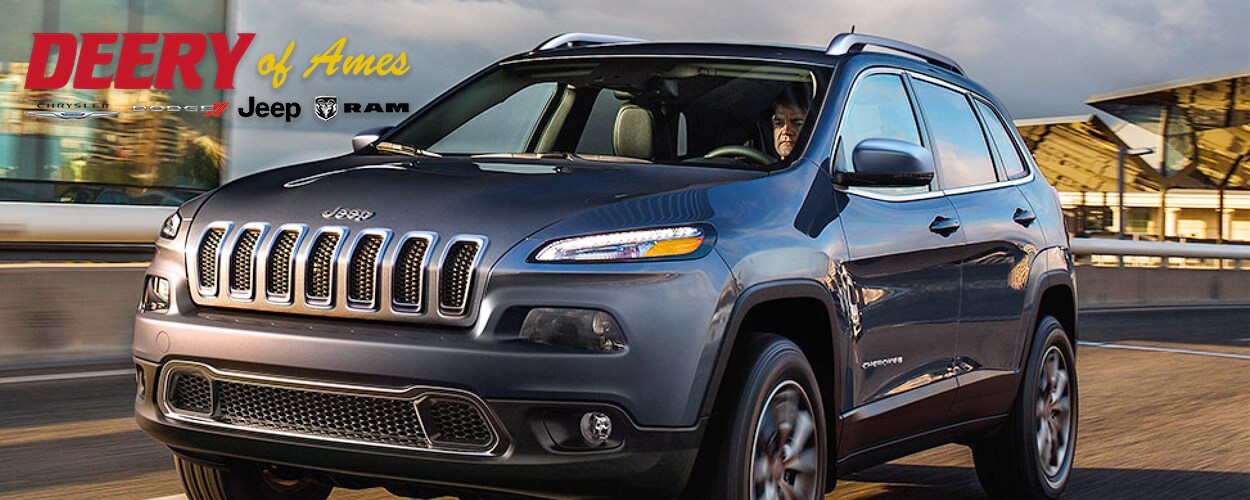 Many happy 2018 Jeep Cherokee drivers say it's well worth the drive from Omaha to purchase your compact SUV from Deery of Ames. The new 2018 Jeep Cherokee is one of the best off-road compact SUVs in its class.
Its comfortable seating, and beautiful interior, along with the multiple four-wheel drive options, make the 2018 Jeep Cherokee the perfect vehicle for both commuting to work and hitting the trails on the weekends.


The 2018 Jeep Cherokee
The Cherokee's award-winning interior is crafted with style and function. The luxury Nappa leather-trimmed seating comes with eight-way power adjustable and four-way lumbar support. The front seats are heated and ventilated.
The 2018 Jeep Cherokee's Uconnect system keeps you connected and up to date with fuel consumption, off-road adventures, and more. Everything is literally at your fingertips with the easy to use 7 - 8.4 inch touchscreen. And the Uconnect mobile app allows you to keep an eye on your Jeep Cherokee from anywhere, call for emergency assistance, and find your Cherokee in a crowded parking lot.
All of these safety and design features in the 2018 Jeep Cherokee give you an amazing driving experience. Here in Ames, Iowa, we go above and beyond to make your vehicle purchase an amazing experience as well. We see community as family here in Ames.
Our customers have told us that their 2018 Jeep Cherokee was worth the drive from Omaha for the great service and best vehicle prices in the Ames metro area. Here in Iowa we believe in no-pressure sales. Our goal is for everyone to feel welcome and comfortable, and to drive away in the vehicle of their dreams.


Come Visit
Many of our customers have told us that the drive from Omaha was well worth it for the 2018 Jeep Cherokee. We pride ourselves on building relationships and treating people with respect; you can feel the difference as soon as you walk in the door. We take care of everything from trade-ins to financing right here on site. And most people are surprised to find that we can customize your vehicle here in our parts and service department. We're grateful to each every one of you, and are proud to have fulfilled our mission of delivering the best vehicles, at the best prices, with excellent service time and time again.